HARPER AEROSPACE FASTENERS
The key word at Harper Aerospace Fasteners is "accountability." For over 35 years, Harper has produced some of the most sophisticated and esoteric fasteners imaginable for the aerospace Industry. We have developed a method of testing and inspection that provides proof that our fasteners are made to the stipulated specifications. Harper's reputation for reliability in the industry is well established.
Harper's documented fasteners can be found today in satellites, nuclear applications, radar equipment, turbine engines, high-pressure pumps, and a host of other sophisticated applications in the aerospace and commercial industries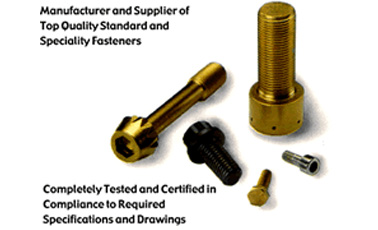 Thread sizes ranging from:
0 – 8 thru 1.25 – 12.
Materials available include:
high-strength and exotic alloys such
as A-286, Alloy Steel, Greek Ascoloy, Hastaloy, Inconel, Ph13-8Mo, 17-4Ph,
and Waspaloy. Tensile strength ranging from: 120,000 thru 220,000 p.s.i.
Finishes available include: black oxide, cadmium plating, passivation and silver plating.
Options available include:
head and shank drilling, special heads, shanks, and threads.
Please contact our Sales Engineering Department for information concerning
other material, tensile strength, and finish options. At Harper Aerospace Fasteners weare committed to supplying our customers with high quality, fully certified fasteners