Allied Manufacturers has a combined total of over 80,000 square feet of manufacturing space. Four primary manufacturing facilities are located within Los Angeles and Orange Counties. These facilities are divided by manufacturing expertise and the types of raw materials required for each job.
Allied has 60,000 square feet of warehouse space to support our customer's inventory and distribution needs. We are poised to handle your JIT and specialized inventory, and lot control requirements with ease.
Allied is experienced with a wide variety of materials, equipment, and processes. We strive first to fully understand our customer's requirements. Then, while maintaining a high standard for quality, we shift our focus toward meeting your requirements in the most cost-effective manner possible. If we develop cost saving measures along the way, we pass those savings directly to you, the customer. Our simple philosophy; we'll produce for you now, but we want your next job as well. Our success is measured by your success!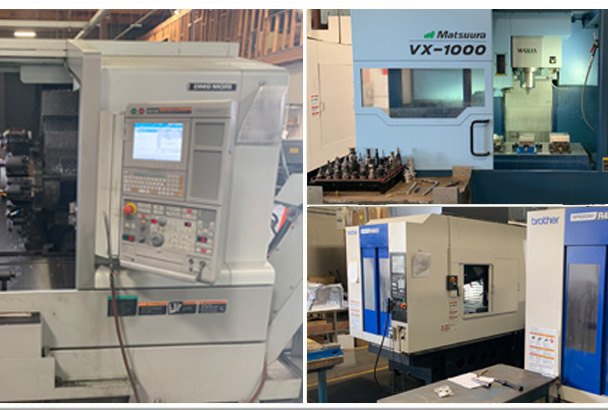 EQUIPMENTS
Machine / Process
Range / Material / Product
Automatic screw machines
.030 - 3.50" diameter rotors, fittings, spacers, connectors, shafts, fittings.
Castings, investment and wax
up to 28" in diameter aluminum, lead, zinc, magnesium.
Electrical discharge machining
vertical and horizontal sinkers, continous wire
tooling and production.
Heading, cold, warm, hot
.050 - 5/8" diameter x 6" close die
(longer lengths in our open die machines)
screws, pins, shafts, blanks, bearings.
Grinders
Blanchard, ID, OD, Centerless, Crush.
Plastic molding
injection, blown, and forming,
housings, enclosures, hardware.
Rubber molding
specialize in custom compound grommets,
o-rings, gaskets, sheet.
Milling center
5 axis work centers, up to 48" table travel
castings, actuators, vanes, extrusions.
Saws and shears
band, (horizontal and vertical), chop.
Second operation machining
drilling, boring, broaching, honing, staking, lapping, tapping, thread rolling, bending, pointing.
Stamping, shearing, bending
Precision and blanking, punch & brake presses.
Turning centers
1/4 - 14" diameters up to 4' lengths, 2-8 axis
rotors, shafts, cams, fly wheels.
Welding, heliarc mig, tig, spot
custom and production, aluminum, steels, stainless, and many exotics.
Inspection and test lab
SPC, Mil-Std, destructive, NDT, ultrasonic, magnetic particle.
Assemblies and sub-assemblies
circuit boards, insert molding, frames, mechanical sub assemblies
Second Operation Equipment
CAPABILITIES
Machine / Process
Range / Material / Product
Automatic screw machines
.030 - 3.50" diameter rotors, fittings, spacers, connectors, shafts, fittings.
Castings, investment and wax
up to 28" in diameter aluminum, lead, zinc, magnesium.
Electrical discharge machining
vertical and horizontal sinkers, continous wire
tooling and production.
Heading, cold, warm, hot
.050 - 5/8" diameter x 6" close die
(longer lengths in our open die machines)
screws, pins, shafts, blanks, bearings.
Grinders
Blanchard, ID, OD, Centerless, Crush.
Plastic molding
injection, blown, and forming,
housings, enclosures, hardware.
Rubber molding
specialize in custom compound grommets,
o-rings, gaskets, sheet.
Milling center
5 axis work centers, up to 48" table travel
castings, actuators, vanes, extrusions.
Saws and shears
band, (horizontal and vertical), chop.
Second operation machining
drilling, boring, broaching, honing, staking, lapping, tapping, thread rolling, bending, pointing.
Stamping, shearing, bending
Precision and blanking, punch & brake presses.
Turning centers
1/4 - 14" diameters up to 4' lengths, 2-8 axis
rotors, shafts, cams, fly wheels.
Welding, heliarc mig, tig, spot
custom and production, aluminum, steels, stainless, and many exotics.
Inspection and test lab
SPC, Mil-Std, destructive, NDT, ultrasonic, magnetic particle.
Assemblies and sub-assemblies
circuit boards, insert molding, frames, mechanical sub assemblies